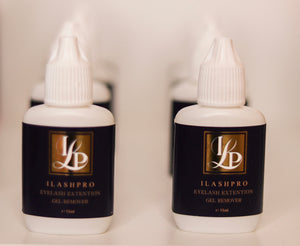 It's texture is thinner than Cream Remover. 
Ingredients: Butyrolactone, Aqua, Hudroxypropyl, Cellulose.
How to use:
Remove the whole set:
Client must be in a sitting up position.
Apply the Gel remover on the extensions.
Leave it on for 5-10 minutes.
(Do not get the gel remover enter into eyes. In case product gets in the eyes, rinse with running water immediately and send client to seek medical help)
Gently rubbing by 2 applicators to remove the extensions. 
Attention: Client must keep eyes closed during the procedure until the product is completely removed.